Such terribly British problems: The 'Profumo Affair'
'Discretion is the polite word for hypocrisy.' Christine Keeler
By comparison with some modern scandals, the 'Profumo Affair' might seem rather tame, but it was an event of great significance in British political and social history. It sent shock waves through the country and marked a significant change in the status and standing of the political class. Where the 'Suez Crisis', for example, focused on war, economics and Britain's declining status, 'Profumo' delved deep into the intriguing world of spies, secrets and sex; it was a story made for the tabloid press – and the country was spell-bound by the whole thing. It delighted and scandalised people in equal measure, being one of the earliest public humiliations of a politician caught up in a sex scandal, and like 'Suez', it seemed to be something of a 'parable' for the times.
The key events in the 'Profumo Affair' took place in 1961 but the headlines came in 1963, that famous year which saw Yuri Gagarin go into space, Martin Luther King delivered his famous 'I have a dream' speech and President Kennedy was assassinated. It was named after on John Profumo (1915-2006), the Conservative MP for Stratford-upon-Avon, who was a member of the Cabinet, the group of senior politicians which has special responsibility to govern the country: the Prime Minister, Chancellor of the Exchequer, Home Secretary, Foreign Secretary and the numerous ministers for health, education and so on. Profumo was the 'Secretary of State for War' in the early 1960s, a time when such a post was really rather significant due to Cold War and events such as the U-2 spy plane incident, the Bay of Pigs fiasco, the building of the Berlin Wall and the Cuban Missile Crisis all showed the tension of relationships between the USA and the USSR. These were anxious times and Mr. Profumo was about to add his own small chapter to the drama.
To put this event into some context, it is important to be aware of the social changes under way in Britain around that time. This was the start of the 'Swinging Sixties', that period when Britain was at the heart of popular culture. London was a world centre for creativity, becoming the most dynamic, exciting and edgy place in which to live, with a wealth of creativity in musical, art and fashion being driven by the generation who had been born during the war and were now in their early twenties. Rising incomes and access to new technology saw many people shaking off what is often portrayed as the 'drab' life of the 1950s. The early Sixties also saw a number of events which impacted on society, most notably the introduction of 'The Pill', the first oral contraceptive which gave women some sort of control over pregnancy. 1963 was also the year in which 'The Beatles' came to fame (their second album, 'With The Beatles', was released on the day that Kennedy was assassinated), and it was three years after the famous obscenity trial focused on the publication of 'Lady Chatterley's Lover' by D.H. Lawrence. The times were undoubtedly changing, as the traditional sense of deference shown to the 'upper classes' was disappearing and traditional morality, rooted in the Christian tradition, was under threat. The desire for scandal was far from what it was to become by the end of the century but there is no doubt that there was a greater interest in scandals, especially those which involved sex, drugs, money and celebrities. Two things which reflected the willingness of people to rock the boat and raise slightly awkward questions at this time were  'Private Eye', established in 1961, and the famous TV programme, 'That was the week that was' (TW3 to its many admirers). Both of these focused on satire and took the opportunity to mock those who wished to be pretentious and questioned those who seemed to have something to hide; both were unpopular with the established powers in the country. Profumo was rather unfortunate that things happened when they did and, of course, where they did; in another time and place, he might well have got away with it.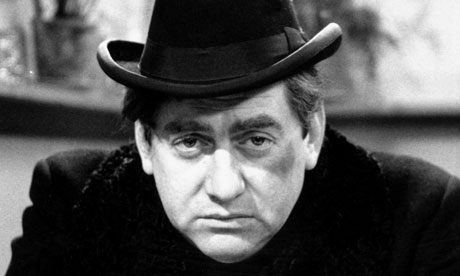 Although it is a simplistic portrayal, you can get a sense of how life in the 1950s was often 'remembered' as being drab by listening to 'Sunday afternoon at home', an episode of the wonderful 'Hancock's Half Hour', starring Tony Hancock (above). Image: here; Source: here

The country was gripped by the details of the 'Profumo Affair' that came out when a man called Stephen Ward was put on trial for 'living off immoral earnings', the polite way of saying he lived off prostitution. He was a wealthy man, a successful osteopath and an artist who did portraits of various high profile people including members of the Royal Family, such as Prince Philip and Princess Margaret. His life was a dramatic and scandalous mix of parties, drinking and lots of beautiful young women. Ward mixed in rather important circles,and he had the knack of 'introducing' rich and powerful men to young and beautiful women. So it was that in 1961, during an exclusive pool party at 'Cliveden House' in Berkshire, the home of Lord William Astor, Ward introduced to young women, Mandy Rice-Davies and Christine Keeler, to John Profumo. (A piece of trivia is that Astor was a relative of the famous John Jacob Astor IV who died on 'Titanic' in 1912.) At the time, Rice-Davies was 17 and Keeler was 19, while Profumo was 46 and married to the well-known actress, Valerie Hobson. This fateful meeting led to a sexual relationship between Christine Keeler and John Profumo, while Lord Astor, also a significant Conservative politician at the time, was alleged to have slept with Mandy Rice-Davies. At the trial,  when it was put to her that Lord Astor had denied any relationship with her, Rice-Davies gave the now legendary reply: 'Well, he would, wouldn't he?'; his wife later claimed to be able to show that on the dates in question, Astor was actually elsewhere but by then the damage had been done. The key affair, though, was between Keeler and Profumo and this took on a new level of significance when it became known that she was also sleeping with a man called Yevgeny Ivanov, a Soviet naval attaché who was thought to be working in Britain as a spy. Profumo was not aware of Christine Keeler's other relationship; if he had been, he might well have thought, and acted, rather differently.
'Cliveden', the home of Lord Astor, where Profumo is alleged to have chased Christine Keeler around the swimming pool in July, 1961. Image: here; Source: here
Christine Keeler had actually come to the attention of the media earlier in 1963 because she was involved in another case at the time. She was seen as a key witness in a case involving a man called Johnny Edgecombe, a jazz promoter she had had an affair with in 1962. Edgecombe had badly wounded another of Keeler's former lovers, a man called Aloysius 'Lucky' Gordon, in a knife attack, as well as firing a gun at the house of Stephen Ward, damaging the door and windows, because he believed Keeler was hiding there. When she failed to attend the court as a witness in Edgecombe's trial, the media took advantage of the situation to publish accusations of her links with Profumo and so the story unfolded. People in high places were already aware of the affair because of an MI5 operation to entrap Ivanov for spying and they were aware of his relationship with Keeler. The problem for Profumo came when he made a statement to the House of Commons in which he lied by denying any involvement in the affair or having had contact with Keeler or Ward. In June, 1963, he was forced to resign because of these lies, especially when it came out that Keeler had also slept with Ivanov. News organizations in the USA really ran with the story after this particular revelation: anyone might have an affair, as they knew, for instance, that President Kennedy had, but what might Profumo have told Keeler which she might have told Ivanov so that he might have told Moscow? The personal story became a global scandal and Profumo had to resign in disgrace.
The whole story was obviously front page news. Simon Ward was arrested on the grounds of living off 'immoral earnings', and was put on trial. Christine Keeler and Mandy Rice-Davies had to give evidence at the trial, becoming rather famous in the process. Their photos appeared in many newspapers and the sight of two beautiful young women being asked about their sexual relations with a Lord of the realm, a Cabinet minister and a spy was an absolute delight for Fleet Street. Ward died from an overdose just before the verdict was delivered, suicide being given as the cause of death although (and conspiracy theories abound at such times) some people claim he was 'helped on his way' by MI5 or some other organisation. Ward was found guilty of living off the immoral earnings of the two women who were described in court as 'prostitutes'. It certainly seems highly unlikely that Rice-Davies and Keeler could be described in such a way nor that Ward was living as a pimp; he made a comfortable living from his other work and it was said that such a thing would simply not fit with his 'style of life'. It is fair to suggest that it might have been in the interest of MI5 and others to have Ward out of the way, as they denied he was involved in any work to catch spies although there is evidence that he was approached to entrap Ivanov and to help him to defect to the West. Fifty years after the event, Geoffrey Robertson QC, who sees the conviction of Ward as one of the great miscarriages of justice in recent British history, was calling for the release of documents linked with the case. His request was rejected and they currently remain hidden until 2044, the centenary of the birth of Mandy Rice-Davies, the youngest person involved in the case. We'll probably never know those details but there still remains something 'incomplete' in the story.
The affair threatened to topple the Conservative Government of Harold MacMillan and it ended Profumo's career at the age of just 48. Profumo never spoke a word in public about what happened and he quietly gave up his parliamentary career and went on to develop a career in charity work. He worked for 'Toynbee Hall' in the East End of London, starting by working in the kitchens, cleaning the toilets and helping at the "Meths drinkers' club". He went on to become the main fund-raiser; he maintained a calm dignity about things for the rest of his life and stayed married to his ever-supportive wife, Valerie, until her death in 1998. He was eventually welcomed back into 'society' as was seen when he was sat at the Queen's right hand during a meal to celebrate the 70th birthday of Mrs. Thatcher. John Profumo, the 5th Baron Profumo of Italy, died in 2006 at the age of 91.
For the Prime Minister at the time, Harold Macmillan, the 'Profumo Affair' pretty much marked the end of his time in office, the stresses proving too much and he retired in late 1963, under the mistaken belief that he had terminal cancer; he died in 1986. His attempts to cover up the whole sorry mess around Profumo exposed the immorality and incompetence at the heart of Government and was a factor that led to a Labour victory in 1964. Yevgeny Ivanov, who MI5 saw as a possible defector, returned to the USSR after his relationship with Keeler became known. According to Keeler, who met him in the late 1980s, thanks to the 'Daily Express', his wife apparently left him as soon as she was told what had happened and he never re-married. In the 1960s, he was posted to Tokyo under a new name and he later received the 'Order of Lenin' for his services in London as he had managed to bring about the fall of the Minister of War. Christine Keeler was imprisoned for her part in the affair, receiving nine months for perjury. She never really settled in life and disappeared from the public eye to live in obscurity and poverty; she is probably best known today for the famous photo of her by Lewis Morley, where she sits naked astride a chair; it is one of the most imitated shots of all time. In many ways, Mandy Rice-Davies had far more fun in life as she did a whole range of things, including cabaret singing, writing cook books and acting (in 'No sex, please, we're British', which was possibly a less than appropriate film for her). Her husband was a friend of Denis Thatcher and so it was that she became a friend of Margaret Thatcher, the two often visiting each other in Surrey and the Bahamas; you would be wary of making such a thing up in a novel.
But the biggest consequence of the affair may well have been its impact on the values and expectations in British society in general. The 'leaders' of the country had been caught in a flagrant scandal and many in the establishment had tried to lie, to cover it up and to blame others. Deference was already in decline in Britain by 1963 but it may be said to have formally come to an end with the 'Profumo Affair', making the rich, royalty, celebrities and politicians a fair target for questions and investigations. These events made a massive breach in the defences of the system and the privacy of the well-to-do which has never been repaired: 'They are no better than us – in fact they're worse than us', was the view of many as they read their newspapers. Many people were shocked and embarrassed by what they read; many more were intrigued and fascinated. The story of John Profumo never quite went away (it became a film called 'Scandal' in 1989) and is still referred to when any such scandals arise today; sex continues to fascinate.In many ways, 1963 saw a 'sea-change' in British society. The arrival of The Beatles and the explosion of popular music and culture at that time may have played a role, as might other factors such as 'TW3' and 'Private Eye'. Maybe it was 'Lady Chatterley's Lover' being published that changed opinion but when looking for the moment when Britain's establishment became vulnerable and open to mockery and ridicule, don't forget John Profumo and his affair.
Find out more
Films: 'Scandal' (1989)
Books: 'An affair of State' by Philip Knightley and Caroline Kennedy; 'Mandy' by Mandy Rice-Davies; 'The Truth at Last' by Christine Keeler
Songs: 'Christine Keeler' by Phil Ochs
Photos: Lewis Morley's famous photo of Christine Keeler sat on a chair; and look up images of John Profumo (1915-2006), Christine Keeler (b. 1942), Mandy Rice-Davies (1944-2014), Yevgeny 'Eugene' Ivanov (1926-94), Stephen Ward (1912-1963) and Lord Denning
(1899-1999)